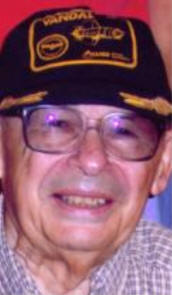 JOSEPH
SOLTYS
April 12, 1926
-
Aug. 24, 2005
OSCEOLA -- Joseph L. Soltys, 79, of Apple Road, died at home Wednesday (Aug. 24, 2005) after a lengthy battle with cancer.
He was born April 12, 1926, in Chicago, Ill., to Stanley L. and Mary (Golembiewska) Soltys. On June 20, 1953, he married Jeanette Magdalena Hince in Minneapolis.
She survives, along with six daughters, Mary (Mike) Church of Elkhart, Clare Soltys of South Bend, Jane (Jack) Soltys Gilbert of Palm Harbor, Fla., JoAnn (Bill) Huys of Granger, Edith (Kevin) Gulley of Plainfield and Veronica (Greg) Soltys-Niemann of McKinney, Texas; two sons, Mark (Pat) Soltys of Stone Mountain, Ga., and Frank (MaryEllen) Soltys of Cape Girardeau, Mo.; 27 grandchildren; two great-grandchildren; and a sister-in-law, Veronica Soltys of Springfield, Ill.
A brother, Stanley Soltys, preceded him in death.
Friends may call two hours prior to Saturday's noon funeral mass at Queen of Peace Catholic Church, 4508 Vistula Road, Mishawaka. The Rev. Richard Hire, pastor, will officiate. A private burial will take place later. Zimmerman-Inman Funeral Home, 1109 Lincoln Way West, Osceola, is in charge of arrangements.
Mr. Soltys retired from Bendix Aerospace Division, where he was an electrical engineer. His specialty was missile guidance systems.
He was a graduate of Illinois Institute of Technology and served in the U.S. Navy during World War II.
He was a member of Queen of Peace Catholic Church and the Professional Engineers Association. His hobbies included crossword puzzles and inventing new products, such as a watering system for flower beds.
Memorials may be given to Queen of Peace Catholic Church or The Center for Hospice & Palliative Care of St. Joseph County.